Quadrotor
From Hackerspace.gr
Quadrotor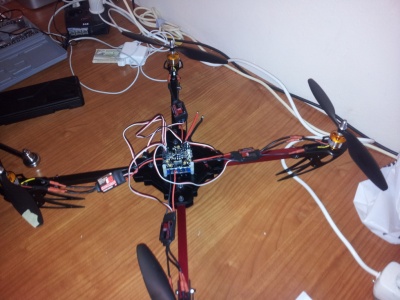 Description
A quadrotor, also called a quadrotor helicopter or quadcopter, is a multicopter that is lifted and propelled by four rotors.
Status
The project seems kind of abandoned for now, if you're interested in working on it send a mail to the mailing list :)
Upcoming meetups
Log
I was all alone [skmp]
reviewed some stuff about FPV systems
Debian image tested, wifi wasn't working

moutsosgeorgios says perhaps its the router

Next target is to test fly using RC
Flashed Debian 7.0 (Wheezy) on Beaglebone.
Installed and tested two different wifi dongles.
Added joystick input to udp client-server program
Decided to send joystick data as is (16bit signed integer) and do any post processing on board
Flashed Ubuntu image on Beaglebone, connected via ssh and uploaded udp server program
Moved forward on sockets with a basic client - server example made and presented by acynonix
Decided to use IP/UDP stack for control communication
Made network latency tests that gave an average of 16ms over 3 hops in our lan
Decided to abolish the, now redundant, identifying 2 bits used for serial communication
Explained some stuff in the code
That was all, really
Decided tag for mailing list -> [hackopter]
Played a little with qt-creator and C
connect XBOX joystick on linux
Decided on logo
Decided tag for mailing list -> [hackopter]
Played a little more with github
Attempt to connect XBOX joystick on linux
Saw new revisions of hackopter logo! Nice! ;)
Project Name set : Hackopter
Team name (guess) : Hackopter-team
Team members registered at hackerspace general discussion mailing list
Primer on github git and git uis
+3 new team-members
Talked about general direction and organisation stuff

We'll focus a bit on the tooling (git/github/mono/gcc) so that everyone is familiar before moving on
No name chosen still
Round-robin event coordinator. Next one is petros.kon
skmp -> we now have xbox360 + wii nunchuck for experimentation
Hacked together C# control ui (slimDX + serial IO)
Hacked together arduino control software (sucks badly)
A few (very) unstable flight tests !
Flashed firmware on KKmulticontroller v5.5 board
Calibrated ESCs
Completed setup procedure of multicopter
(click on the title for the detailed event page)
Resolved ESC/BLDC soldering issues by drilling new holes (the quad is now slightly smaller, non destrutive change)
Finished assembly
13/03/2013
X525 arrived at hackerspace.gr
Checked motors
Soldered motor contacts
Assembled main body
Team (sorted by nickname)
(edit this and add yourself *AND KEEP IT SORTED*)
TODO List
Mods
Add more nuts on suspension legs
Add rubber bumpers on suspension legs
Use more washers
Wanted stuff
PSU that can handle the load
Resources
Repositories
Firmware
Documentation
Photos
Spare Hardware
Whiteboard


Weight target is 500g, Payload 250g, Lift 250g
* Arduino 27g
* esc 22g
* motor 38g (spec)
* propeller 7g

27+4*(22+38+7)= 295? (268 for motor + ESC)


~30/01/2013
* Link -> WIFI
* no gps (http://www.ebay.com/sch/i.html?_nkw=pci+5s&_sacat=0 if we finally need one)
* Beaglebone/linux + arduino
* motor load ~ 7 amps @ ~ 250g lift
* safety/testing -> glasses, net
* regular workshop schedule -> every wednesday 7-9
* next meetup -> 6/2
* -> smaller quadcopter 
* budget -> ?

~Tasks
* Beaglebone linux distribution, rt-linux & related stuff
* Investigate existing open source DoF/quadcopter platforms
* Investigate propeller mounts and/or motors 
* Look at quadcopter kit prices

~Ideas
* Buy quadcopter kit (cheaper ?) to get us started
* Crazyflie Nano Quadcopter Kit: http://www.seeedstudio.com/depot/preorder-crazyflie-nano-quadcopter-kit-10dof-with-crazyradio-bccfk02a-p-1365.html?cPath=170_172