microHackFest00
From Hackerspace.gr
Starts
Organizer
Tue 28 Jan 2020 19:00
Hackerspace Community
Ends
Event Owner
Wed 29 Jan 2020 2:00
User:Elkos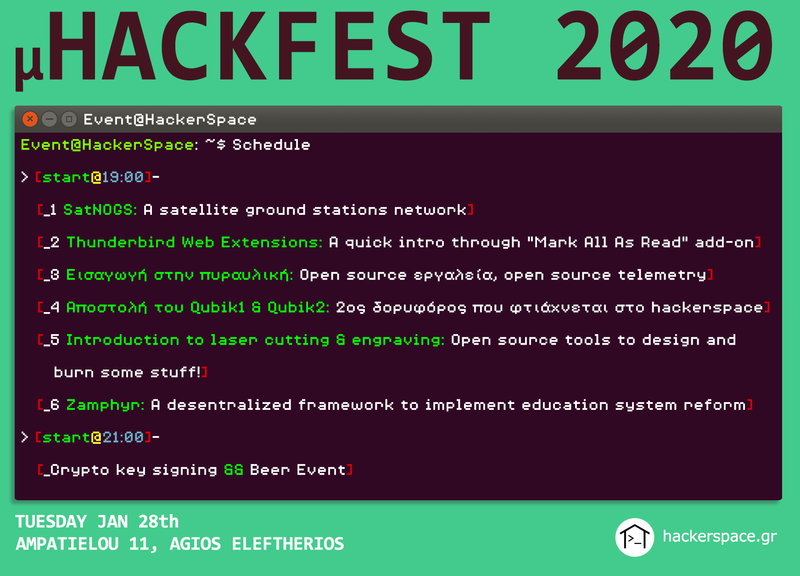 [GR] Το μHackFest (microhackfest) είναι ένα μηνιαίο event στο hackerspace.gr για να παρουσιάστε τεχνολογίες, λύσεις και hacks ανοιχτού κώδικα. Όλοι είναι ευπρόσδεκτοι να μοιραστούν τις εμπειρίες τους, να συζητήσουν ιδέες και να αλληλεπιδράσουν με τη κοινότητα.
Πρόγραμμα μHackFest 00
19:00 
 * SatNOGS a satellite ground stations network
 * Thunderbird web extensions A quick intro through "Mark All as Read" add-on
 * Εισαγωγή στην Πυραυλική Open-source εργαλεία, open-source telemetry
 * Αποστολή του Qubik1 & Qubik2 2ος δορυφόρος που φτιάχνεται στο hackerspace
 * Introduction to laser cutting and engraving open source tools to design and burn some stuff!!
 * Zamphyr a decentralized framework to implement educational system reform
21:00
Crypto-key signing & Beer event


Αν επιθυμείτε να παρουσιάστε στο επόμενο μHackFest ένα project ανοιχτού κώδικα το οποίο, δουλεύετε, αναπτύσετε,ή hack-άρετε εγγραφείτε στην discuss mailing list (https://lists.hackerspace.gr/listinfo/discuss) και στείλτε με τον τίτλο της παρουσίασης σας και με link προς ένα repo/ project site/ άρθρο σε blog/ παρουσίαση στο σχετικό thread ή αν ντρέπεστε επικοινωνήστε απευθείας μέσω mail στη διεύθυνση hackfest@hackerspace.gr.
[ENG]
μHackFest (aka microHackfest) is a monthly event at Hackerspace.gr showcasing open-source technologies, solutions, and hacks.
Everybody is welcome to share their experiences, discuss ideas and interact with the community.
μHackFest 00 schedule
19:00
 * SatNOGS a satellite ground stations network
 * Thunderbird web extensions A quick intro through "Mark All as Read" add-on
 * Εισαγωγή στην Πυραυλική Open-source εργαλεία, open-source telemetry
 * Αποστολή του Qubik1 & Qubik2 2ος δορυφόρος που φτιάχνεται στο hackerspace
 * Introduction to laser cutting and engraving open source tools to design and burn some stuff!!
 * Zamphyr a decentralized framework to implement educational system reform
21:00
Crypto-key signing & Beer event

Want to showcase an open-source project you work with, develop, or hack on a 10-15' lightning talk at hackerspace.gr on the upcoming μHackFest? Join the discuss mailing list (https://lists.hackerspace.gr/listinfo/discuss) and share the title of your talk and link to repo/ project site/ blogpost/ presentation to the relevant thread or if you prefer directly via email at hackfest@hackerspace.gr